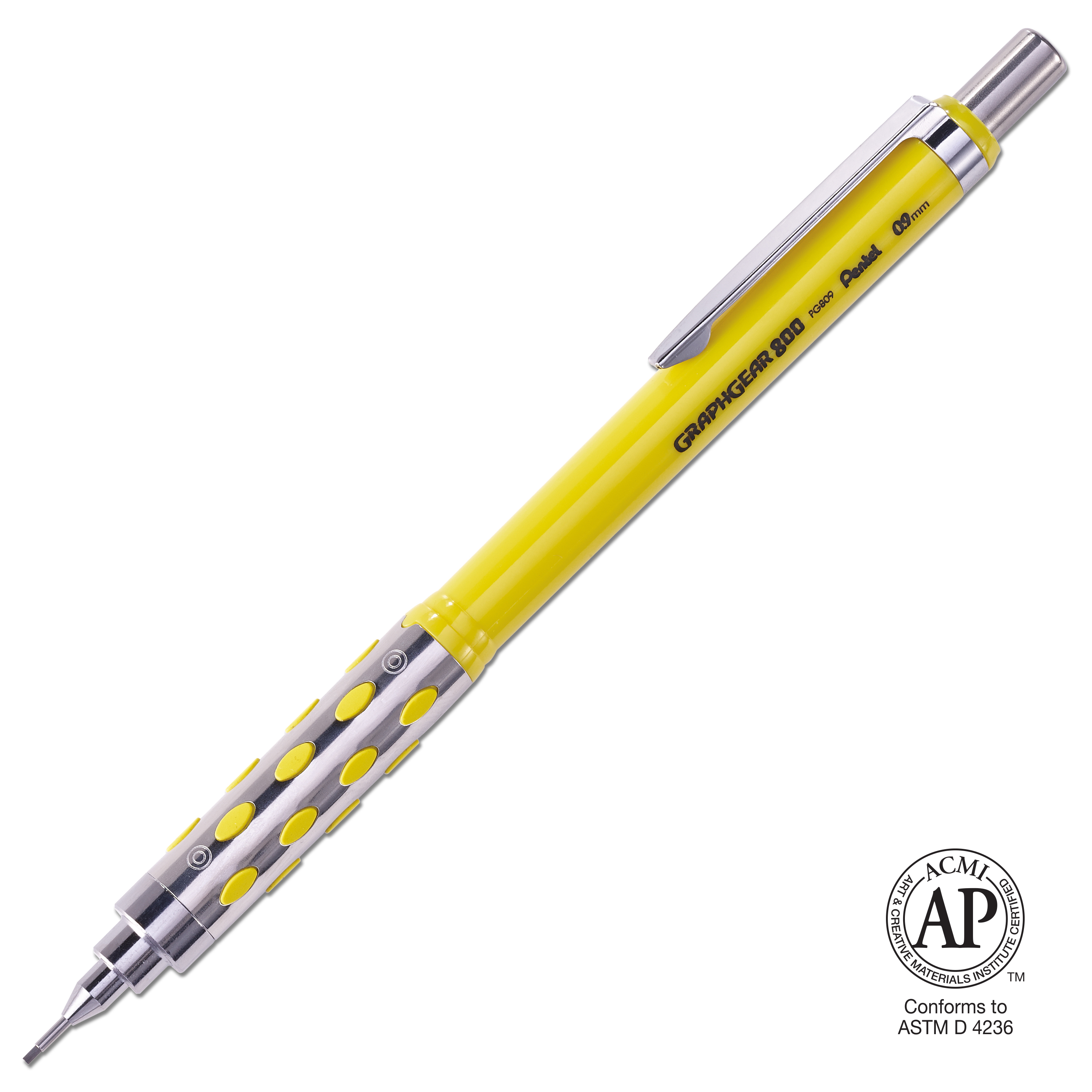 GRAPHGEAR800 / PG809
Write a review
Style: Others/Autres
Tip size/Taille de la point: 0.9mm
Refillable/Rechargeable: Yes
Refill code/Code de recharge: Z2-1 or Z2-1N (Eraser/Gomme)

DRAUGHTING PENCIL
Drafting pencil features metallic grip inlaid with soft, pads. Barrel weight is perfectly balanced for more control when drawing or writing. Metal inner construction for long lasting durability. Pencil available in 0.3mm(PG803), 0.5mm(PG805), 0.7mm(PG807) and 0.9mm(PG809): colour coded for easy lead size identification. Uses 0.9mm leads and Z2-1N refill eraser.
DESSIN MINE
Crayon à dessin à prise métallique et insertions de coussinets souples. Barillet au poids parfaitement équilibré permettant d'écrire et de dessiner en plein contrôle. Construction intérieure en métal assurant une durabilité à long terme. Largeurs de pointe disponibles : 0,3mm(PG803), 0,5mm(PG805), 0,7mm(PG807) et 0,9mm(PG809); codées par couleur pour faciliter l'identification. Utilisez des mines 0,9mm et la gomme de rechange Z2-1N.
Products bearing ACMI's AP(Approved Product) Seal are certified in a program of toxicological evaluation by a medical expert to contain no materials in sufficient quantities to be toxic or injurious to humans or to cause acute or chronic health problems. This program is reviewed by ACMI's Toxicological Advisory Board. These products are certified by ACMI to be labeled in accordance with the Labeling of Hazardous Art Materials Act (LHAMA) and the chronic hazard labeling standard ASTM D-4236.