About Us / À propos de nous
Pentel is leading the world with new product development power and high production technology
Pentel est leader mondial de par sa capacité à developper de nouveaux produits et par sa haute technologie de production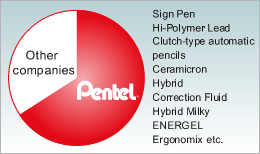 During the past 70 years, about two thirds of the new writing instruments in the world have been created by Pentel. This amazing innovation has been realized by the dedication and close cooperation of the central laboratory, product development offices and production divisions. Based on the state-of-the-art information, each research division has taken the lead in developing new materials, new mechanisms and new techniques. These results have enabled us to develop new products at our cutting-edge factories.
Pentel ChartIn the process, the results of QC circle activities, which form part of TQM (Total Quality Management), are reflected.
---
Environ deux tiers des nouvelles fournitures d'écriture commercialisées dans le monde ces soixante-dix dernières années ont été mises au point par Pentel. Ces innovations extraordinaires ont vu le jour grâce à la détermination et à l'étroite collaboration du laboratoire central, des bureaux responsables de la mise au point de nouveaux produits et des divisions chargées de la production. Disposant des données les plus récentes, chaque division de recherche fait figure de chef de file en mettant au point de nouvelles fournitures, de nouveaux mécanismes et de nouvelles techniques. C'est ainsi que Pentel peut créer de nouveaux produits à ses usines, qui sont toutes à la fine pointe de l'innovation.
Les produits issus de ces fabrications font la gloire des techniques de pointe et de leur site de production. Ainsi, les résultats de l'ensemble des activités du Contrôle Qualité, dépendant de la Direction Générale Qualité, sont plus apparentes.
Product Page
News Page
Original, new product development from Pentel
Original l'activité développement de nouveaux produits par Pentel
Pentel has developed two-thirds of writing instruments in the world since 1945.
Pentel à développe deux tiers des instruments d'écriture au monde.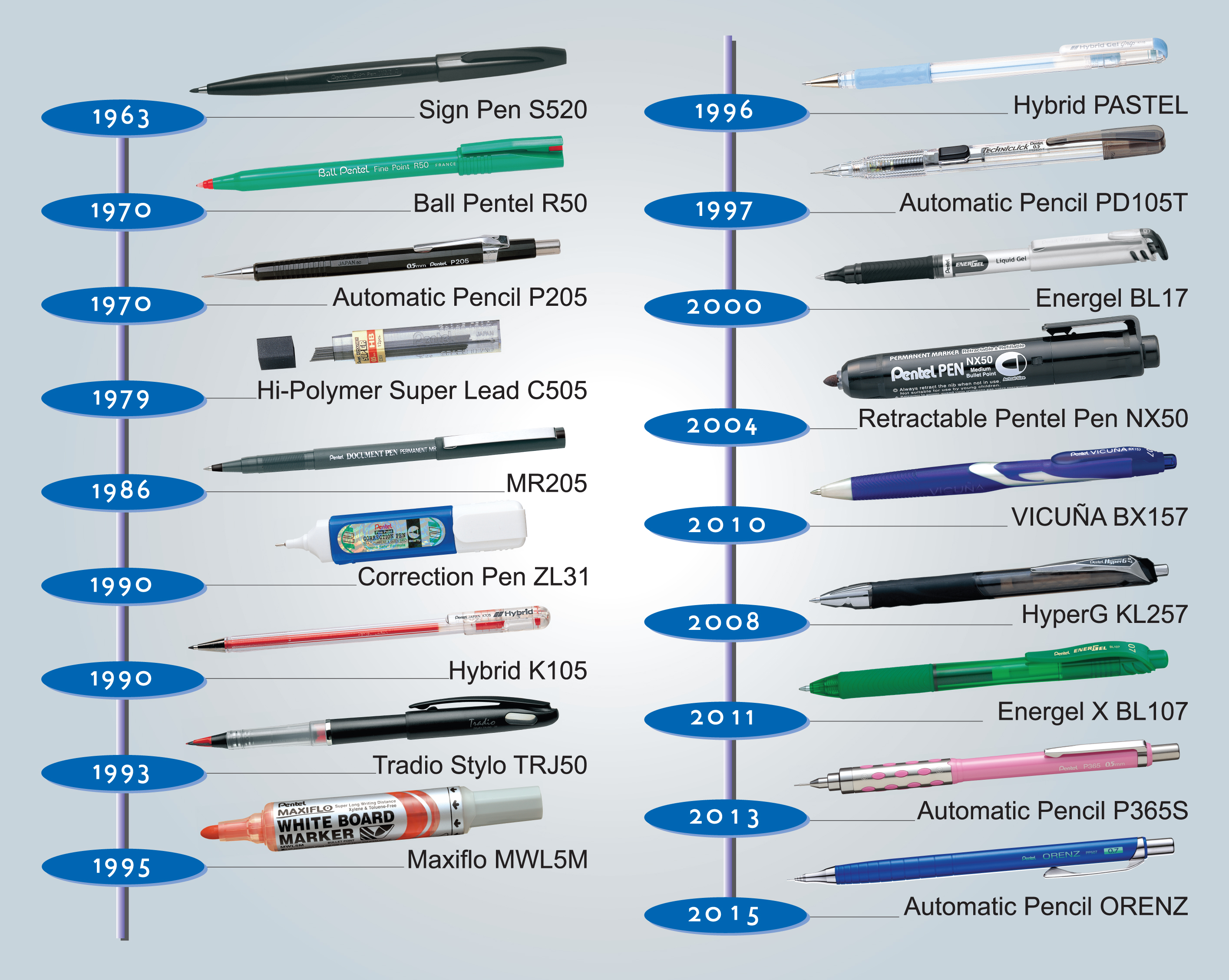 A page in history, MANGA / Une page dans notre d'histoire, MANGA