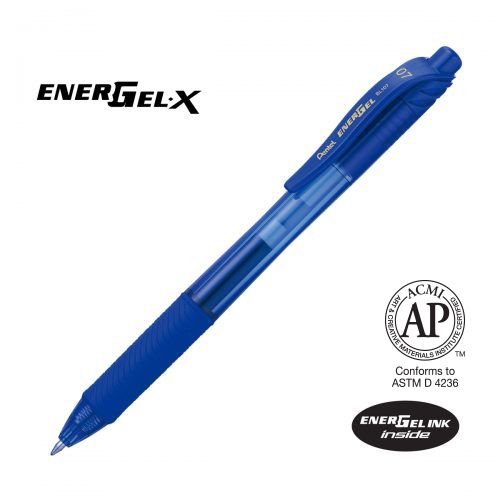 EnerGel® / Energel X / BL107
Write a review
Style: Retractable/Rétractable
Tip size/Taille de la point: 0.7mm
Refillable/Rechargeable: Yes
Refill code/Code de recharge: LR7


GEL ROLLER PEN
The ultimate writing experience. Smooth flowing, quick drying ink. 0.7mm point. Uses LR7 refills.
STYLO À ENCRE GEL
L'expérience d'écriture suprême. Encre fluide, à sechage rapide. 0.7mm pointe. Utilise des recharges LR7.
Products bearing ACMI's AP(Approved Product) Seal are certified in a program of toxicological evaluation by a medical expert to contain no materials in sufficient quantities to be toxic or injurious to humans or to cause acute or chronic health problems. This program is reviewed by ACMI's Toxicological Advisory Board. These products are certified by ACMI to be labeled in accordance with the Labeling of Hazardous Art Materials Act (LHAMA) and the chronic hazard labeling standard ASTM D-4236.

User Reviews
2 Reviews
Wonderful ben
Bought a box of 12 for work needs, I need to write almost 8 hours a day continuously. This pen worked great. The only thing I noticed is the needle, tip of the pen, tend to shorten after a not so long duration. This pen can get some improvements in the mechanism of inside to make t more durable. Ottherwise, worth buying it totally!
best pen
genuinely the greatest gel pen I've ever used. quick drying and leaves no marks on my hand as a leftie.