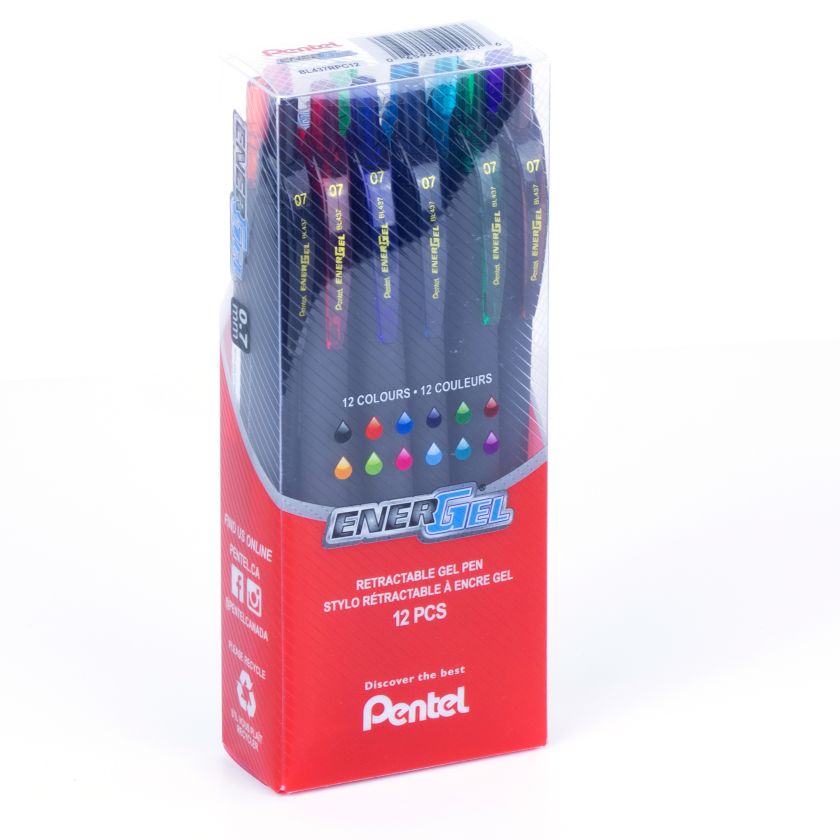 Energel Black Barrel / BL437RPC12
Write a review
Style: Retractable/Rétractable
Refillable/Rechargeable: Yes
Refill code/Code de recharge: LR7

Slim, rubberized barrels with built-in molded grip for effortless writing. An economical EnerGel pen with a coloured end for easy identification. Ideal for everyday writing. EnerGel ink writes more smoothly than the leading brand* (*Internally tested to be smoother writing than the leading gel pen on standard writing paper) Liquid gel ink dries so fast even left-handed writers love it – no smears, no smudges, no globs. 0.7mm stainless steel tip. Refillable with LR7 EnerGel refills. Reduce your environmental impact by refilling your pens. 550m Writing Distance.
Un corps mince et caoutchouté avec une prise intégrée pour assurer une écriture sans effort. Un stylo EnerGel économique avec une pointe colorée pour faciliter l'identification. Idéal pour écrire au quotidien. L'encre EnerGel permet une écriture plus douce que la compétition* (*Testée en interne d'être plus fluide que le principal concurrent sur papier standard). Doté d'une prise texturée pour un meilleur contrôle pendant l'écriture. Ce stylo est un bon cadeau pour n'importe quelle occasion. Pointe 0,7mm. Utilise la recharge EnerGel LR7. Réduisez vos déchets en rechargeant vos stylos. Longueur d'écriture 550m.


User Reviews
2 Reviews
Gorgeous Pens!
I just got these a few days ago, and I'm in love with them! I'm obsessed with pens!
Energel Black Slim Barre
Im a big fan of the Energels! And now that it comes in a slim rubber barrel, I love them more! I have the dark blue, orange, and brown, and I love how pigmented the ink is. The 0.7 tip is not too thick at all. I think these are excellent gel pens!