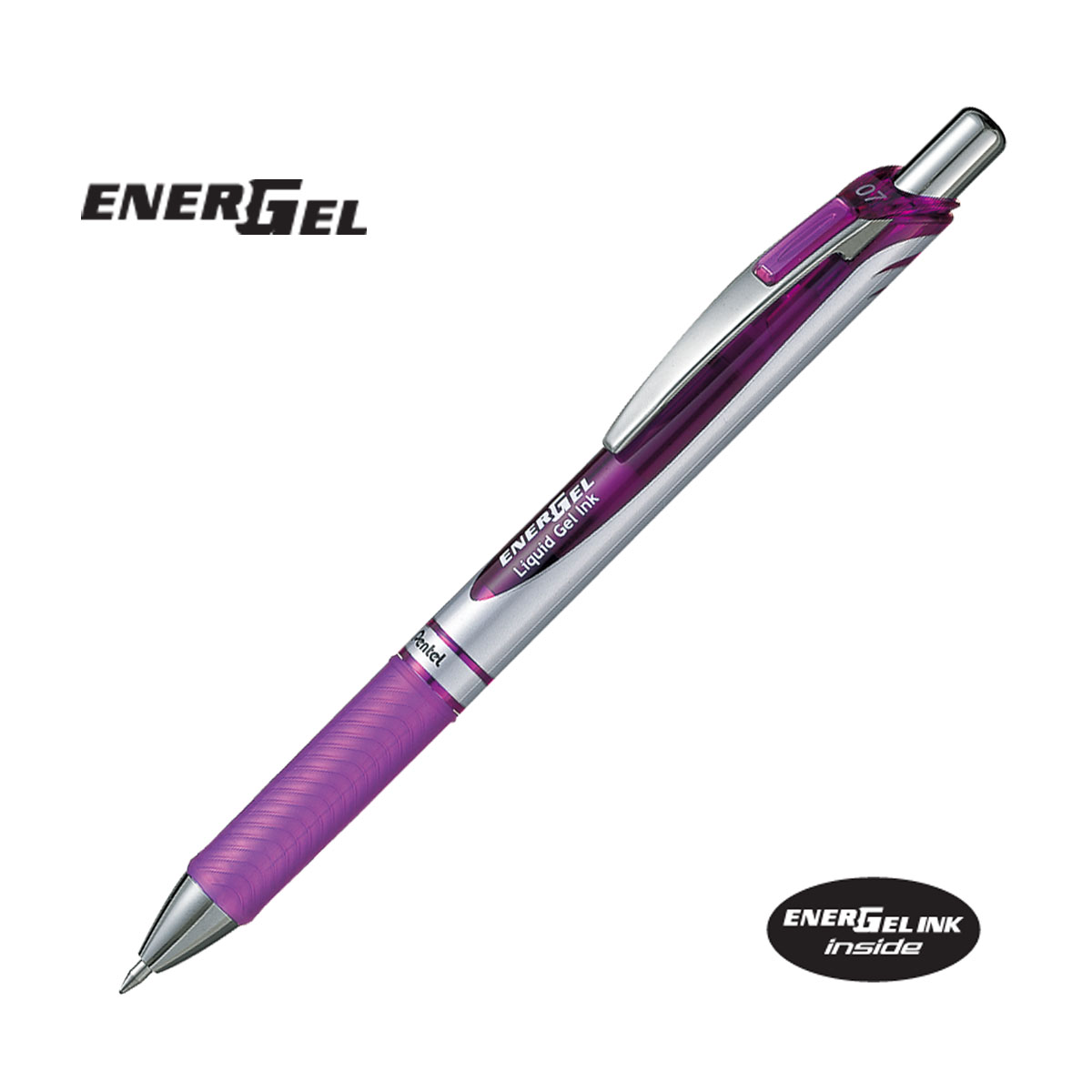 EnerGel® / BL77
Write a review
Style: Retractable/Rétractable
Tip size/Taille de la point: 0.7mm
Refillable/Rechargeable: Yes
Refill code/Code de recharge: LR7


GEL ROLLER PEN 0.7 MM
High performance ink technology combines the best qualities of liquid and gel ink for a super-smooth writing experience. Liquid gel ink dries so fast even left handed writers love it – no smears, no smudges, no globs. Smooth grip for writing comfort. 0.7mm ball. 550m writing distance. Uses LR7 refill.
STYLO À ENCRE GEL LISSE 0,7MM
Dotes d'une technologie à performance supérieure, ces stylos combinent le meilleur de l'encre liquide et de l'encre gel afin d'offrir une écriture fluide et continue. L'encre gel liquide sèche si vite que même les gauchers en raffoleront – et ne laisse aucune tache ni bavure. Avec une poignée confortable. Longueur d'écriture 550m Pointe 0,7mm. Rechargeable avec les référence LR7.

User Reviews
28 Reviews
Love the Energel
Have many Energels. Love my Alloy Energel! Glad to see the fact they use recycled/recyclable ink. Smooth writing and great colour depth. Have no concerns with the writing quality, they're always there with smooth, dependable writing. Glad you have the refillable option. Saves the planet. Thanks again.
Best pen ever!
As a writer, author, notetaker and to-do list jotter, I have spent most my life looking for, and losing, functional and comfortable writing instruments. Someone gifted me the Pentel Energel (two of them!) and I am guarding them with my life as they are the best! Easy to hold, ink flows nicely, clean and just bold enough on the page. Thank you for the video which helped me discover -- with delight -- that they are also REFILLABLE. This is my pen for life. I may even branch out beyond this lovely blue ink.
Smooth writer
Received this as a giveaway prize in a back-to-school set, and I love this pen. Super smooth. Good ink saturation and even flow. Thanks Pentel!
Energel Pen
Without a doubt, the smoothest , easy writing pen ! I love my Pentel easygel. Im getting my offuce to stock these beauties Thanks 😁
My new go-to gel pens
The ink dries super fast and there was no smearing when using them! I dont recommend using them with a highlighter because the I I will smear a bit, but that happens with most gel pens. I love the fact that they are refillable! The ink is very saturated and the colours are beautiful! This is my go-to pen now for my billet journaling!
I love these pens!
These have been a longtime favourite of mine, and when Pentel kindly sent me more colours to try I was so excited. The Burgundy, Blue and Yellow are all vibrant and write incredibly smoothly. I really love journaling with these because they are so comfortable and the ink flows with very little pressure from me. As a bonus: I received an Energel with a Canada-themed pen body which is so fun!
Smooth
These pens write very smoothly. The ink is a little juicy, so make sure to use on thicker paper if you don't like shadowing.
Smooth and consistent
I hadn't tried the Energel Gel Pens before and I'm loving them! These pens write so well and have consistent lines. I've been enjoying using the different color inks when writing my happy mail to make it look a bit more happy. :)
Comfortable and smooth
Pentel Energel are very comfortable to write with. Thats very important for me, as a teacher and scientist who writes a lot everyday I really value that. Ink is bright and it writes really smoothtly.
Love these!
Such a smooth write! It smudged a little when freshly written, but much better than other gel pens I have tried. Colour showed up beautifully on my bullet journal pages!
Energels!
Smooth as buttah! I love how smoothly these wrote! I have the 0.7 and the colors are super vibrant! Very happy with them!
Energel Retractable Gel Pen
I am a lefty, typically gel pens are not my jam. The Pentel Energel Retractable Gel Pen is the first gel pen I have used that does not leave my hand smeared after use. The ink is wonderfully pigmented and rich. The 4 stars is due to the slight smearing after highlighting. I will definitely be using this gel pen regularly due to how quickly it dries, as I love the smoothness of writing.
MY FAVORITE
I have never tried Energel pens before and I am wondering why!! Those pens are absolutely amazing and the ink is soooooo smooth. I love them! Plus, the ink does not smudge!
My favourite pen!
I have been a huge fan of these pens for a while they are my favourite pens for taking notes and journaling! They are highly pigmented but dry immediately! Makes it perfect for taking notes if you want to highlight over these pens without smudging or leaving ink residue on the highlighter. The smoothness of it and the instant drying is amazing and the best I've ever tried! I even have refills for the black pen so I won't run out! I've gotten to try more of the colours from this line and they are all amazing.
my ALL TIME FAVORITE gel pen!
Pentel Canada kindly sent me a few of these pens to review, and I've got to say that I FELL IN LOVE with them! The ink flows so incredibly well and is so smooth. The ink is very pigmented and has the perfect amount of 'juiciness' to it, yet it still dries very quickly, which means it's perfect for lefties and highlighting. The grip on the body of the pen is VERY comfortable to hold. I can write for a long time with these pens without having my hand cramp up, which is always a plus! I love to highlight my notes, so the fast drying feature is super helpful! One thing to note is if you plan on using this pen in your bullet journal, it doesn't dry as fast as it would on normal notebook paper (because notebook paper isn't as smooth as the paper in the bullet journal), so I wouldn't recommend highlighting right after you write with the pen, but maybe wait about 3-5 seconds before doing so. But overall, these gel pens are my FAVORITE and I will definitely purchasing more of them in the near future. I'd recommend these to anyone who is looking for the PERFECT PEN to fulfill their needs!