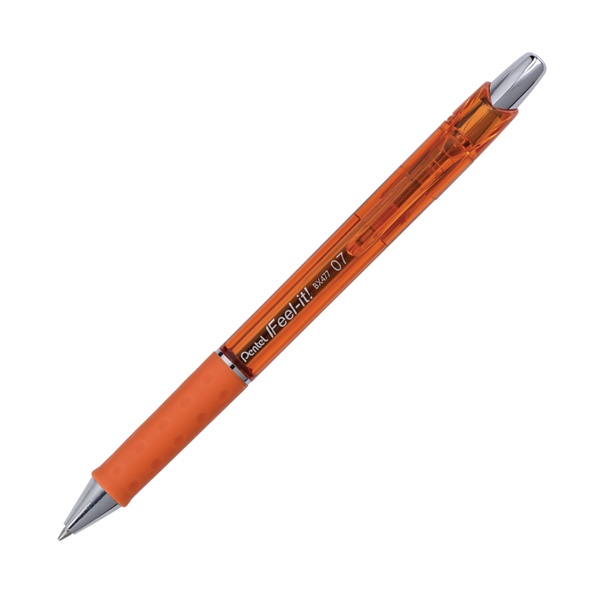 Feel-it! / BX477
Write a review
Style: Retractable/Rétractable
Tip size/Taille de la point: 0.7mm
Refillable/Rechargeable: No


Low-viscosity ink for smoother writing that comesin bright, dense colours. Vibrant body colour reflects the colour of the ink. Features a retractable weighted metal tip so you can write with a lighter hand. Comfortable rubber grip. Perfect for everyday writing.
L'encre à basse viscosité permet une écrituredouce aux couleurs vives. La couleur du stylo reflète parfaitement la couleur de l'encre. La pointe métallique est rétractable et offre une écriture sans effort. La prise en caoutchouc est confortable. Stylo parfait pour les besoins fréquents d'écriture.
User Reviews
4 Reviews
Good pen, but too many gobs of ink!!
Great pen, but the ink collects on the tip and transfer to your paper leaving big gobs of ink on your paper as well as getting on your hands. Some pens are much worse than others!!
Good grip, bad writing experience
I started an online course and was writing a LOT of notes so I needed a new pen. Bought this pen hoping it would produce a smooth rolling thin line. It does that, if you write with the pen almost completely upright. It's comfortable to hold but the writing is not worth it. I'll be trying a different pen out next time.
Nice ball point pen
I replaced Bk9 with this to see! nice smooth ball point pen!!!
Great ink
Easy to write with, needs little pressure to make good lines. The colour was nice and vibrant blue. Definitely recommend.