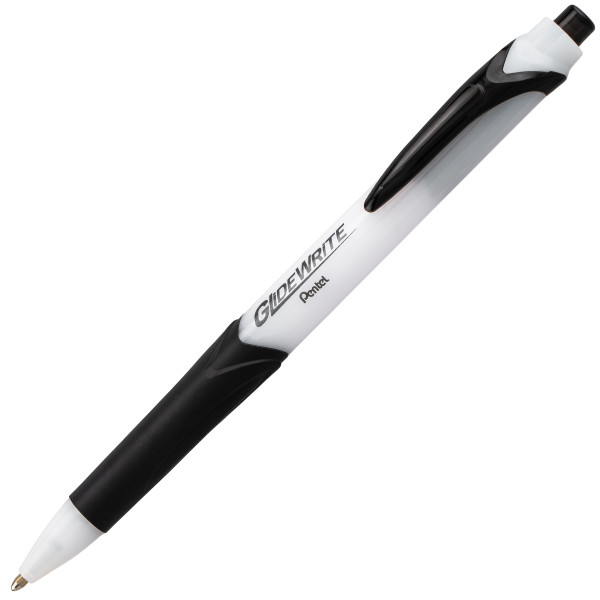 Glide Write / BX910
Write a review
Style: Retractable/Rétractable
Tip size/Taille de la point: 1.0mm
Refillable/Rechargeable: No


Super Low Viscosity Retractable Ballpoint Pen
Elevate your writing to the next level with GlideWrite super-low-viscosity ballpoint pens. Advanced breakthrough ink formula – TechniFLO, is a super-low-viscosity ink that ensures rich ink flow for smooth, easy writing. Highest ink flow of any ballpoint pen 25% lower friction than the nearest competitive ballpoint. Internally tested to produce zero ink globbing and smearing. A unique white barrel offers a stylish design that is eye-catching and well balanced. Coloured grips are contoured for remarkable comfort and control during extended writing sessions. 1.0mm metal tip writes clean medium lines with no skipping or smudging.
Stylo à bille Rétractable Très Basse Viscosité
Élevez votre exérience d'écriture au prochain niveau! Ce nouveau stylo à bille rétractable de très basse viscosité avec sa formule supérieure et révolutionnaire d'encre, TechniFLO assure une écriture fluide et facile.  L'encre le plus révolutionnaire que n'importe quelle encre de stylo bille. 25%  moins de friction que les stylos à billes de nos concurrents. Le stylo est Testé pour éviter des grosses gouttes et des taches. Un corps blanc et unique offre un design chic attirant et bien équilibré. Les manches en couleur sont contournés pour un confort et un contrôle remarquable pendant les longues séances d'écriture. La pointe métallique de 1,0mm écrit des lignes nettes sans sautes ni taches.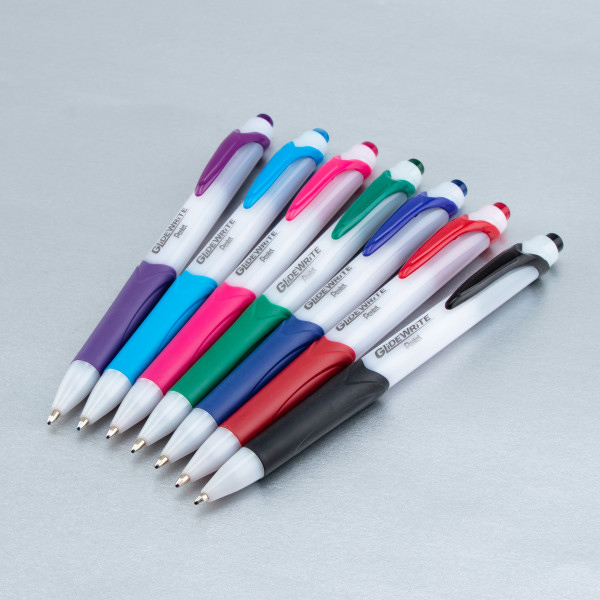 User Reviews
13 Reviews
So smooth and no smearing
Color is so saturated and it doesnt smear! Which is great for using highlighters with them. Very comfortable to hold, and the ink flow is great!
Glidewrites
Geeze! Glides so smoothly! Colors are rich and saturated. Easy to write for a long time with. No skipping. Very enjoyable!
New favorite ballpoint pen
These pens write so smoothly and don't leave a goopy residue like some ballpoints do. The barrel is really comfortable for long-form writing which I'm really enjoying!
Comfy grip
The colours of these pens are vibrant. I really like the grip. It didn't hurt my fingers after taking notes for a long time.
Simple design
This model was new to me. I am not a big fan of thicker tips but pen is very comfortable, ink flows well and colors are bright enough.
New fave ball point!
Such a smooth write! I am a big fan of clicker ball point pens, and these were so comfortable in my hand for long stints of writing! Colour showed up beautifully on my bullet journal pages!
Glidewrites
Geeze! Glides so smoothly! Colors are rich and saturated. Easy to write for a long time with. No skipping. Very enjoyable!
GlideWrite Ballpoint Pen
This ballpoint writes like butter. I have never found a ballpoint that writes as smoothly as this. I can also use a highlighter over it without it smearing. This will most likely be my new favourite ball point!
Nice!!
I really like those pens, but I am more of a gel pen user, so I personally think there are too much friction, but if you like ballpoint pens, those are your go-to!
The smoothest pen!
This pen is absolutely amazing. The ink flow is so smooth and just glides on the page! It also makes my writing look super nice. Absolutely no smearing even right after you write on the page. This is especially great if you are looking to use a highlighter over the pen for something like notes because it does not smear and leave ink residue on the highlighter! The grip on the pen also makes it very comfortable to use. Definitely recommend it if you are looking for a versatile pen!
My favorite Ballpoint pen.
A few of these Pentel Glide Write ballpoint pens were sent to me by Pentel Canada to review. When I wrote with them for the first time, I was both surprised and amazed... The ink flow was AMAZING that it felt almost like a gel pen! The ink flows amazingly well and it is so incredibly smooth. The good thing about these pens is it dries very fast and does not smear which is perfect if you're a lefty or if you like highlighting your notes. It's quite comfortable to hold in your hand and I found that I can write with these pens for a long time without my hand cramping up. Overall, I love this pen and it is definitely the best ballpoint pen I've ever used. I'll certainly buy more of these in the near future and will recommend it to everyone.
So easy to write with
Super easy to write with, the colour is so saturated and needs next to no pressure to produce great lines.
So far my favourite
The ink is light and dry quickly, but still so smooth. More colour variation would complete my dream pen!