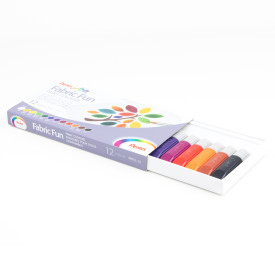 Pentel Arts® / Fabric Fun / FFPC1-12
NEW

-Create your own designs to wear or share. Liquid paint is suitable for detailed designs.
-The paint is for creating designs on t-shirts, bags, and other fabrics. Colours can be mixed for greater variety.
-No ironing necessary. The paint will stay on the fabric material after it dries. (After 24 hours.) 30℃ normal
wash. Do not dry clean.
-Mix the paint with water, and use a brush to draw. You can change the color thickness/tone depending on the water
amount. Standard mixture is 50 paint / 50 water. When you add more water, you can get watercolor-like color
effect.
-6ml Paint Tubes, 12 Colours
-Read instructions provided with product for best use practices.