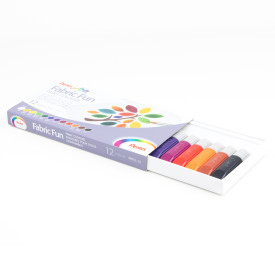 Pentel Arts® / Fabric Fun / FFPC1-12

Create your own designs to wear or share. Liquid paint is suitable for detailed designs. The paint is for creating designs on t-shirts, bags, and other fabrics. Colours can be mixed for greater variety. No ironing necessary. The paint will stay on the fabric material after it dries. (After 24 hours.) 30℃ normal wash. Do not dry clean. Mix the paint with water, and use a brush to draw. You can change the color thickness/tone depending on the water amount. Standard mixture is 50 paint / 50 water. When you add more water, you can get watercolor-like color effect. 6ml Paint Tubes, 12 Colours. Read instructions provided with product for best use practices.
Créez vos propres créations à porter ou à partager. Cette peinture liquide convient aux créations détaillées. Avec cette peinture vous pouvez concevoir des motifs sur des tissus comme celui d'un t-shirts, d'un sac ou d'un drap. Les couleurs peuvent être mélangées pour créer une plus grande variété de choix. Aucun repassage est nécessaire pour fixer la peinture. La peinture restera sur le tissu après 24h de séchage. Ne pas nettoyer à sec. 6ml Tubes de Peinture, 12 Couleurs. Lisez les instructions fournies avec le produit pour connaître les meilleures pratiques d'utilisation.