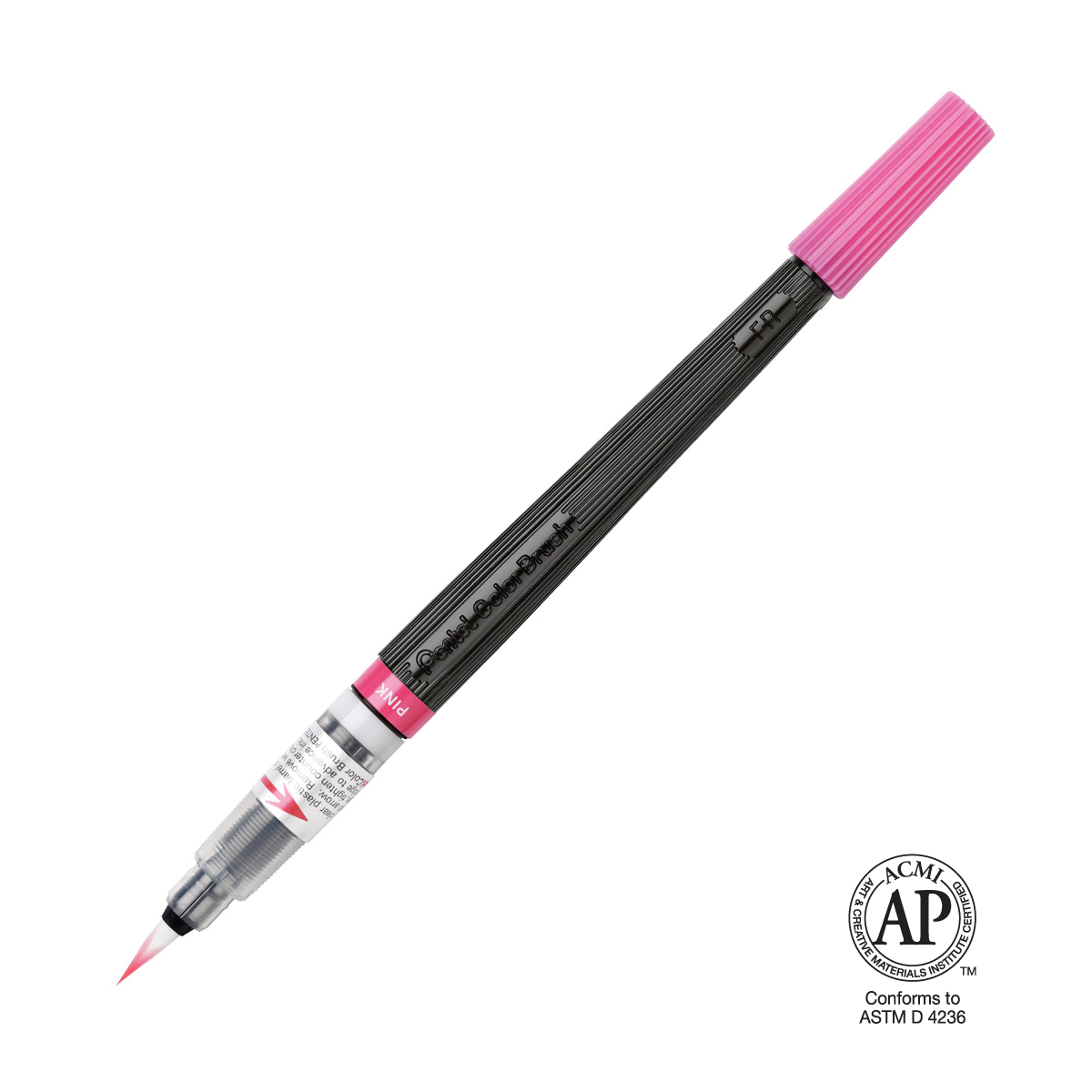 Pentel Arts® / COLOR BRUSH / GFL
Write a review
Style: Cap/Capuchon
Tip size/Taille de la point: Others/Autres
Refillable/Rechargeable: Yes
Refill code/Code de recharge: FR-T


BRUSH PEN
Nylon brush tip pen. Brightly coloured liquid ink flows easily, dries quickly and produces transparent water colour effects. Uses FR-T refill cartridges.150m writing distance.
PINCEAU
Pinceau pointe nylon. Encre liquide très fluide, sèche rapidement et procure un effet d'aquarelle. Utilisez des recharges FR-T. Longueur d'écriture 150m.
PACKAGE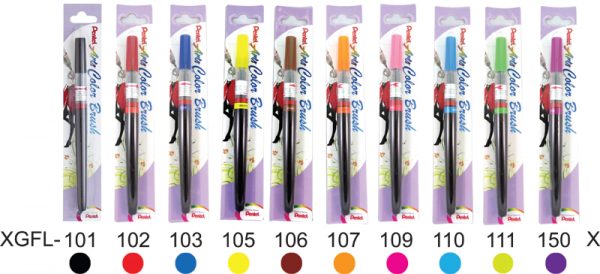 Products bearing ACMI's AP(Approved Product) Seal are certified in a program of toxicological evaluation by a medical expert to contain no materials in sufficient quantities to be toxic or injurious to humans or to cause acute or chronic health problems. This program is reviewed by ACMI's Toxicological Advisory Board. These products are certified by ACMI to be labeled in accordance with the Labeling of Hazardous Art Materials Act (LHAMA) and the chronic hazard labeling standard ASTM D-4236.


BEFORE USE:
Hold brush pen upward and unscrew clear barrel in clockwise direction.
Remove red protective shipping ring from cartridge.
Replace the barrel and tighten,
With gentle squeezing of cartridge, ink will flow into the brush tip.
AVANT UTILISATION:
Tenez le pinceau pointe ver le haut, et dévissez la partie basse dans le sens des aiguilles d'une montre

Retirez l'anneau rouge de protection de la cartouche

Replacez la cartouche et serrez

Avec de légrès pressions sur la cartouche, l'encre va couler d

ans la pointe du pinceau.