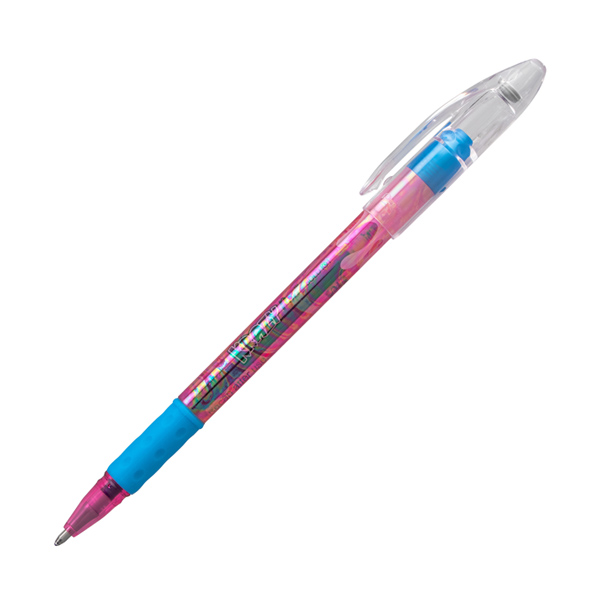 Pentel Arts® / Krazy Pop / K91
Write a review
Style: Cap/Capuchon
Tip size/Taille de la point: 1.0mm
Refillable/Rechargeable: No


KRAZY POP IRIDESCENT GEL PEN
Add a "KRAZY POP" of outrageous colour to your writing world! Smooth, metallic gel ink and extra-long balanced barrel for effortless writing and control. The glittery iridescent ink adds a dazzling, dual-colour sparkle effect. The ink looks like a different colour when writing on black or white paper. Perfect for cards, drawings, doodles and other designs. Rubber grip for comfortable writing and drawing. 1.0mm tip writes bold lines.
STYLO À BILLE ROULANTE À ENCRE GEL IRISÉE
Ajoutez un éclat de couleur extravagante dans votre quotidien! L'encre gel métallique et le corps bien équilibré permettent une écriture douce et un meilleur contrôle. Ce stylo à encre gel irisée et scintillante utilise de l'encre pigmentée qui change de couleur en fonction de l'angle duquel on la regarde. Idéal pour les journaux, la décoration des lettres ou des cartes. La prise caoutchoutée permet un grand confort d'écriture. Pointe 1,0mm.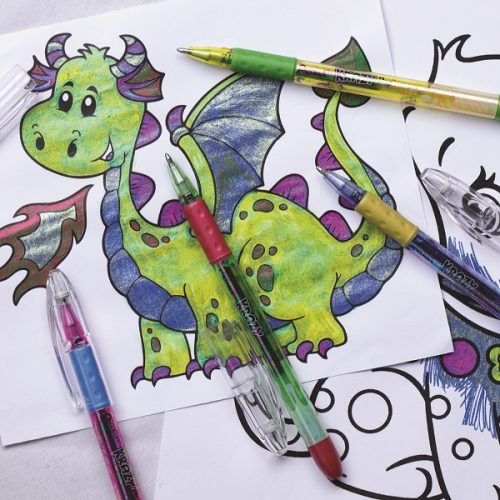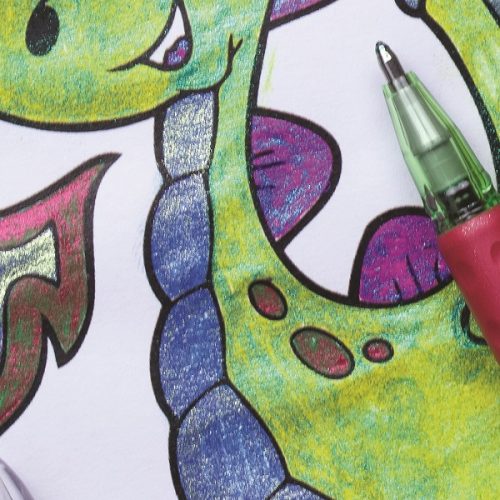 User Reviews
6 Reviews
Fantastic
To me, these are the best gel pens I have ever used! They are perfect for adult colouring projects, especially any kind of fantasy work. Love them so much, I depleted the stock at two different Staples stores. I highly recommend these pens to anyone who wants special effects in their artwork.
Great
Pretty innovative how bot colours write and the glitter is a fun touch!
Best green pen! (Yellow/metallic green)
One of my favorite colours is green, and now this is my favorite 'fun' pen! I'm excited to try out the other ones too.
Pretty colour, okay pen
I have the green/metallic red pen, and the colour combination is pretty and fun. The downside is that the ink does not flow smoothly. I cant draw a full line before the ink flow stops, which is frustrating and makes the pen virtually unusable except for small details. Hopefully this is a one-off, as I typically like Pentel pens.
an okay pen
good flow , very sparkley , just not the best pen you know
STYLO BILLE ROULANTE ENCRE GEL IRISE
Bonjour Je ne trouves plus ce produit nulle part est ce que je peux en acheter de votre compagnie est ce que vous en faite encote? Merci >>>>Bonjour Martine, Il est disponible sur staples.ca. Merci!