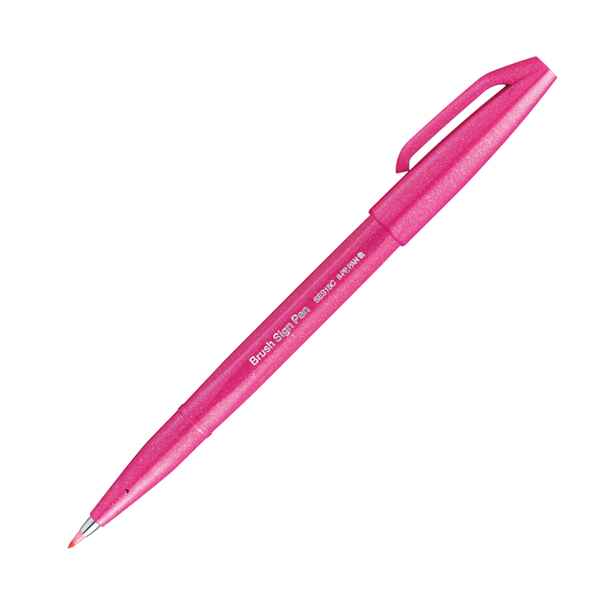 SIGN PEN BRUSH / Pentel Arts® / SES15C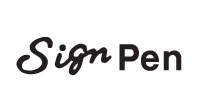 COLOUR BRUSH SIGN PENS
The richly saturated colours are fully blendable with water and other Sign Pen Brush colours. The tip can be diluted with water to get a full range of values. Great for a variety of techniques including, feathering, cross hatching, outlining, calligraphy and detailed work. Wear resistant pressure sensitive and flexible tip. Will not dry out if left uncapped and can be cleaned with a paper towel.
STYLOS FEUTRES DE COULEURS
Les couleurs richement saturées se mélangent parfaitement à l'eau et aux autres couleurs des feutres Sign Pen. La pointe peut être trempée dans l'eau afin d'élargir la gamme de couleurs. Ces feutres sont parfaits pour diverses techniques, notamment pour les dégradés, les hachures croisées, le dessin graphique, la calligraphie et le travail détaillé. Pointe souple, résistante et sensible à la pression. La pointe peut être nettoyée avec un essuie-tout et elle ne séchera pas si elle est laissée à l'air libre.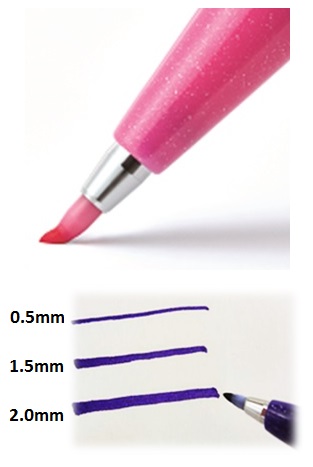 User Reviews
14 Reviews
Love the small tip!
My favourite brush pens!! The small tip makes them so easy to work with and are perfect to do my journaling titles! The ink dries super fast, and you can easily blend them to make awesome lettering effects! The new colours are so pretty! I will definitely be buying new colours soon!
Great brush pens
Pentel Canada kindly sent me these Brush Sign Pens to try, and I am a big fan. These pens have small enough brush tips that I find it easy to control my hand-lettering and they are really fun to practice with. The colours they sent me were all beautiful, and I especially loved the Blue and Turquoise Green.
Comfortable size
I like the slightly larger and shorter barrel. It fits comfortably in my hand while working on my brush lettering. My hand doesn't get as tired as fast.
Beautiful colors and pen
I hadn't tried these brush pens before and I'm so pleasantly surprised by them. They're excellent small tipped brush pens that make my hand lettering look so good. I'm particularly loving the blue violet color!
My fave small tip brush pen
These are my first loves with small tip brush pens - and I am so glad they expanded the colour choices! Such a juicy pen for such a small tip, easily transitions from thick to thin!
Sign Pen Brush Pen
These have been a favourite of mine for a while. I love that the tip is not too hard or soft. The colours are incredibly saturated. I enjoy blending them with water in my journal. I am happy to add a few more to my collection. This definitely is a must have for anyone who likes to art journal.
Love these Brush Pens!
Pentel Canada sent me the brand new colours of the Pentel Arts Brush Pens to try out, and I am IN LOVE! The new set of colours have more pastel shades such as pale pink and more mature/deep colours such as turquoise green or burgundy. The original colours are beautiful as they are bright and bold, but I prefer the newer colour selection a little more than the original because I don't own any small brush pens that come in these rich deep/mature and pastel colours, so that's a big plus! As for the nibs of the brush pens, they are exactly like the original set. The nibs are not too hard and not too soft.. it's right in between. It is so easy to control in order to get thin upstrokes and thick downstrokes, and the nib is VERY durable! I don't mind using these pens on paper that isn't as smooth as I would normally use, because these pens do not fray easily. It is super easy to achieve beautiful ombre looks and blends (I love dipping them into ecoline liquid watercolour, it creates such a pretty blend! You can also dip them in water to dilute the ink, and when you write with it, you will see the colour go from light to dark! )! Overall, I love these pens and would definitely recommend this product.
AMAZING BRUSH PENS FOR BEGINNERS
I am part of the studygram community for a while now, but I have never tried calligraphy before. Those are perfect, the tip is not too sturdy but not too soft which makes it perfect! Also, the colors are really pretty and there is a big variety of colors!
AMAZING BRUSH PENS FOR BEGINNERS
I am part of the studygram community for a while now, but I have never tried calligraphy before. Those are perfect, the tip is not too sturdy but not too soft which makes it perfect! Also, the colors are really pretty and there is a big variety of colors!
Amazing brush pens!
These brush pens are amazing they come in so many different colours and so easy to use! Perfect for calligraphy/hand-lettering especially for beginners because the pen is very controllable and easy to make thick and thin strokes! The tip is just the right size to get those perfect thin upward strokes as well as the thick downwards strokes. Highly reccommend.
I love these brush pens!
These Pentel touch sign brush pens were sent to me by Pentel Canada, and I have got to say that I am absolutely in love with them! I already had a pack of these brush pens before they were sent to me, but now I have some brand new colours as well, and I absolutely ADORE the new beautiful colours! These brush pens are so easy to control, and it is so incredibly easy to get thick and thin brush strokes with them. I would definitely recommend these to both beginner and experienced handletterers/calligraphists, as they are so easy to control and are so beautiful! I will definitely be buying more of these in the future.
Brush Sign Pen
Enjoying the sleek and smooth writing control of my Brush Sign Pen and love the colour choices. I just wish I could find the whole pen collection around here!
My all time favorite brush pen!
I purchased the standard 12 pack of these brush pens the first time I started to learn modern calligraphy, and I FELL IN LOVE! They are so smooth and come in many beautiful and vibrant colours! My personal favorite colour is the yellow ochre! The nib is a soft nib and is extremely easy to control. It is so incredibly easy to blend colours together, and is overall the best small tip brush pen I've ever used. I would recommend this to everyone who wants to start calligraphy and to everyone who already have experience with calligraphy!
Great pen!
Came with 24 colours. I use it for drawing but I love how I'm able to draw thin and delicate lines as well as think broad lines depending on how much pressure I add to the pen. Great for calligraphy.