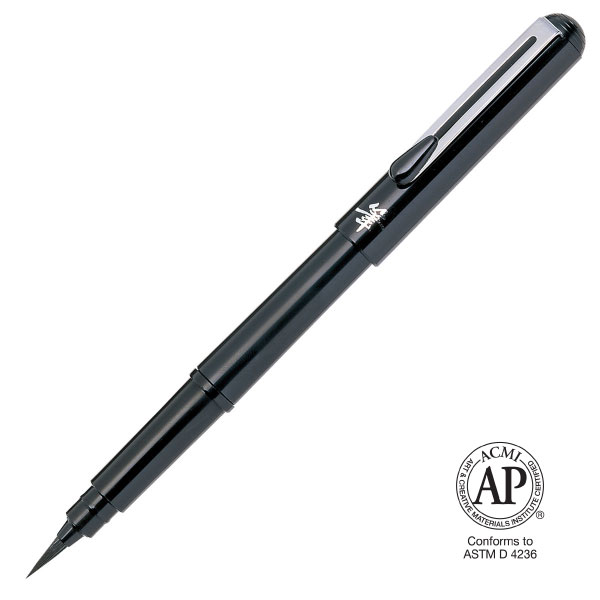 Pocket Brush / GFKP3
Write a review
Style: Cap/Capuchon
Refillable/Rechargeable: Yes
Refill code/Code de recharge: FP10

BRUSH PEN
The GFKP brush tip pen is the latest example of this technology. Employing the finest man-made bristles, the pen uses clean, convenient long-lasting refills of pigment ink that is both water and fade resistant. Leak proof fittings and measured ink flow guard against soiled clothing and unsightly manuscript. Each pen comes with 4 refill cartridges. Uses FP10 refills. 60m writing distance.
PINCEAU
Le stylo pinceau GFKP est le plus récent exemple de cette technologie. Employant les poils de soie, fait à la main, le stylo utilise des recharges d'un encre à pigments (propre et de longue durée). Cette encre est la fois résistant à l'eau et à la lumière. L' assemblage à l'épreuve des fuites, et le contrôle du flux d'encre préservent des taches. Chaque stylo est présenté avec 4 cartouches de recharge. Utilisez des recharges FP10. Longueur d'écriture 60m.
PACKAGE


Products bearing ACMI's AP(Approved Product) Seal are certified in a program of toxicological evaluation by a medical expert to contain no materials in sufficient quantities to be toxic or injurious to humans or to cause acute or chronic health problems. This program is reviewed by ACMI's Toxicological Advisory Board. These products are certified by ACMI to be labeled in accordance with the Labeling of Hazardous Art Materials Act (LHAMA) and the chronic hazard labeling standard ASTM D-4236.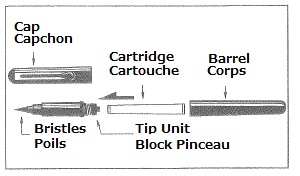 CARTRIDGE REPLACEMENT
Remove cap and unscrew barrel.
Firmly press the narrow end of cartridge into tip unit.
Replace barrel and tighten securely.
Hold pen vertically with tip down until ink drains down to bristles and then make test strokes to get ink flowing.
Note: Avoid contact with the bristles when removing or replacing the cap. Ink may spray or stick to the cap and then be transferred to the end of the barrel when the cap is placed there. This ink might rub off on hands and clothing. Ink will not wash out of clothing. Ink flow is controlled but may be affected by extreme temperature or air pressure changes. If the bristles clog with dry ink (after long periods of disuse or after having left the cap off) unscrew the tip unit, remove the cartridge and rinse the tip unit and bristles with warm water. This pen uses Pentel FP-10 refill cartridges only. Use of other cartridges may adversely affect performance.
REPLACEMENT DE LA CARTOUCHE
Retirer le capuchon et dévisser le corps.

Enfoncer la cartouche dans la tête du pinceau en appuyant fortement.

Revisser le corps en serrant fermement.

Tenir le stylo verticalement, en position d'écriture, jusqu'à ce que l'encre imprègne les poils du pinceau. Ensuite, amorcer en effectuant quelques traits.
N.B.: Eviter tout contact avec les poils du pinceau en manipulant le capuchon. En effet, l'encre pourrait se répandre dans le capuchon et souiller ensuite l'extrémité du corps avec le risque de tacher les mains ou les vêtements. La suppression des taches sur vêtements est difficile et résiste en paticulier au lavage. Le débit de l'encre est régulé mais peut néanmoins être affecté par des conditions extrêmes de température. Les poils peuvent sécher si le produit n'a pas été utilisé durant une longue période ou si il est resté ouvert. Dans ce cas, il suffit de retirer la cartouche et de rincer la brosse àl'eau tiède. Ce stylo utilise des cartouches Pentel FP-10 exclusivement. L'utilisation de toute autre cartouche peut affecter les performances du produit.
User Reviews
2 Reviews
A great pen
The Pentel Pocket Brush Pen has a lightweight yet sturdy body and is very comfortable to use. They use disposable cartridges that are perfect for sketching on the go. The tip of the pen is firm which provides a lot of control. I was amazed at how fine a line I could get with the brush pen. It is great for making small fine lines as well as filling in larger areas. Overall, it is a great pen.
High Quality, Easy to use
Super impressed with the quality of this brush pen. The refill's are extremely easy to use as well. I look forward to the continued use of this product.