RECYCOLOGY / RECYCOLOGIE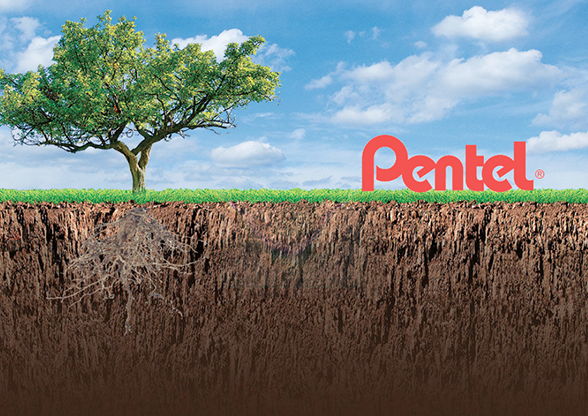 Our Commitment to the Planet
Pentel is committed to developing and providing environmentally safe and useful products. Our Pentel Recycology Products are made from a minimum of 50% recycled materials by weight and are designed to reduce the impact of manufacturing on the environment.
Our Recycology Program focuses on ways to reduce environmental waste through innovative product design and the use of raw materials involved in production. Many of our products are refillable to further lessen the environmental impact. Our ecofriendly products provide a small, yet powerful way to ensure a safer future.
---
Notre engagement envers la planète
Pentel s'engage a développer et mettre sur le marché des produits non-toxiques et surtout très utiles. Nos produits Pentel Recycology sont faits d'au moins 50 % de matières recyclées et sont conçus de manière à réduire l'incidence des procédés de fabrication sur l'environnement. Notre programme « le développement d'écoproduits » dirige ses efforts sur les façons d'amoindrir le gaspillage des déchets à travers l'innovation du design des produits et l'utilisation de matériaux destinés aux rebuts. Ainsi, plusieurs de nos produits sont réutilisables diminuant les impacts négatifs sur l'environment. Ces efforts écologiques représentent pour nous un pas de plus vers un avenir plus propre.