Local Business Feature (Fait Divers) : The Original Paper-Ya in (à) Vancouver, BC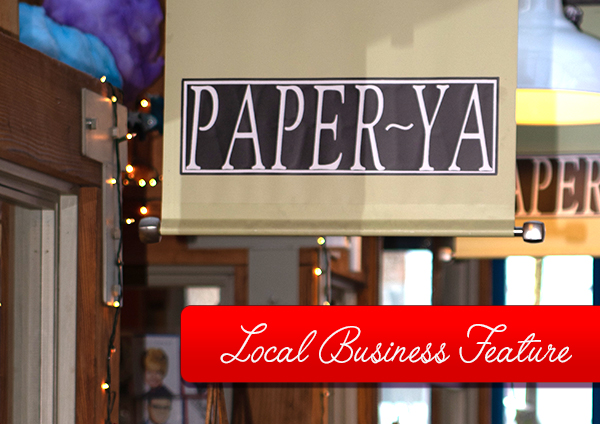 The Original Paper-Ya is a warm and welcoming stationery store in the heart of Granville Island in Vancouver BC. The location is a buzzing tourist destination which houses all kinds of artisanal workshops with storefronts attached for the world to experience their crafts.
The Original Paper-Ya est un magasin chaleureux de papeterie, situé au cœur de l'Île Granville à Vancouver, CB. Il se trouve dans une destination touristique, où on rencontre une grande variété d'ateliers artisanaux spécialisés en toutes sortes d'art.
Writing and calligraphy have transformed into an art form which provides a great escape from the fast pace of this technology-filled world. Paper-Ya reflects this and the culture of Granville Island extremely well by providing items that cater to both the artisans and the general public. If you are an expert or just starting out Paper-Ya is an excellent place to go get expert advice and great products.
L'écriture et la calligraphie sont deux formes d'art où on peut s'échapper du monde trépidant de la technologie. Paper-Ya spécialise dans ce genre d'art. Il représente bien la culture de l'Île Granville en offrant les produits qui satisfont les artisans ainsi que le grand public. Que vous soyez expert(e) ou débutant(e) à la calligraphie, Paper-Ya est l'endroit idéal pour recevoir des avis d'experts et vous procurer des produits excellents.


We had the pleasure of speaking with the staff of this unique store to get some more insight about what they are all about.
Nous avons eu le plaisir de parler avec le personnel pour mieux connaître ce magasin unique.
How long has the store been in business?
Paper-Ya was originally started by two artists back in 1986.
Depuis combien d'années ce magasin est-il en affaires ?
Paper-Ya a été fondé par deux artistes en 1986.
What are three interesting facts about the store?
We see more than 100,000 people pass through our doors each year and import products from over 15 countries. Paper-Ya helped pioneer the celebration of paper in all its amazing forms. "Ya" means store in Japanese and we like the positive sounding vibe of that, thus… Paper-Ya!
Pouvez-vous nous dire trois faits intéressants sur le magasin ?
Plus de 100,000 gens franchissent le seuil de notre porte chaque année et nous importons des produits venant de plus de 15 pays. Paper-Ya est l'un des pionniers de la fête de papier dans toutes ses formes magnifiques. "Ya" signifie magasin en japonais et nous aimons les ondes positives qui viennent de ce mot. Donc… Paper-Ya !
Why do you sell stationery products in your store?
As our world changes, we continue to celebrate the new, the fresh, and the creative, and not just in paper.
Pourquoi vendez-vous des produits de papeterie dans votre magasin ?
Comme notre monde se transforme, nous continuons à célébrer le nouvel, le frais et le créatif aussi⁠—et non seulement dans le monde du papier.
Why do people get drawn into your store?
People come to our store from all over the world. We are very fortunate to be on Granville Island at the heart of our beautiful city, Vancouver.
Pourquoi votre magasin attire les gens, pensez-vous ?
Les gens viennent à notre magasin de partout dans le monde. Nous sommes très chanceux d'être situés sur l'Île Granville au cœur de notre belle ville à Vancouver.

Which Pentel product would you recommend to customers and why?
Some of our favourite Pentel products to recommend are the Brush Sign Pens and the Dual Metallics. They both have amazing features for people doing calligraphy and other various art forms.
Quel produit Pentel recommandez-vous aux clients et pourquoi ?
Quelques-uns de nos produits favoris de Pentel sont le Pinceau Pentel et le Gel Métallique. Ils ont tous les deux des caractéristiques incroyables pour ceux qui aiment la calligraphie et d'autres formes d'art.
Does your store hold any events?
We do hold special some special events, but you need to follow us on Instagram to find out the details. 🙂
Est-ce que votre magasin accueille des événements ?
Nous organisons des événements spéciaux, mais il faut d'abord nous suivre sur Instagram pour trouver les détails 🙂
Follow Paper-Ya on their social media platforms to get updates on their special events and more!
Suivez Paper-Ya sur ses médias sociaux pour toutes les nouvelles sur ses événements spéciaux !
To get more information on where to buy Pentel products please visit our Where To Buy page.
Pour plus d'informations sur où acheter les produits Pentel, visitez notre page Où Acheter.