Stop typing, start writing with Pentel! Cessez de taper et commencez à écrire avec Pentel!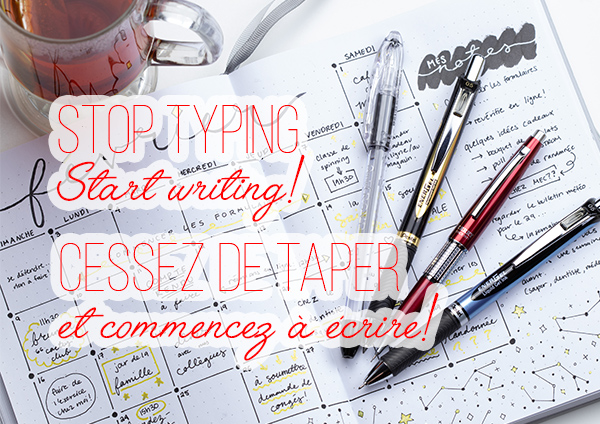 Stop typing, start writing!
Cessez de taper et commencez à écrire!
As the first month of 2020 wraps up, the New Year is, for most of us, only going to get busier. With tax deadlines, Valentine's Day, and other events coming up, February tends to keep us busy in both our professional and social lives. Essentially, this means keeping track of dates and deadlines becomes more and more important.
Comme nous nous approchons le deuxième mois de 2020, le Nouvel An nous gardera plus occupés qu'avant. Pour la plupart d'entre nous, à cause des échéances pour les impôts, la Saint-Valentin et d'autres évènements qui viennent, le mois de février ne laisse pas du temps pour se détendre. Ce que ça veut dire, c'est qu'il faut constamment suivre les dates importantes.
But what is the best way to stay on top of all these important dates and deadlines?
Mais c'est quoi la meilleure façon de gérer toutes ces dates à retenir ?
Many opt for the convenience of phone calendars and task productivity apps, but it's all too easy to swipe that reminder notification off your screen and forget about it almost immediately. Until of course, it's the evening before Valentine's Day, and you realize you should have ordered that special gift at the store a week ago. And we all know mental notes never work. Why else would some of us have downloaded five different apps to keep track of our deadlines and to-do lists?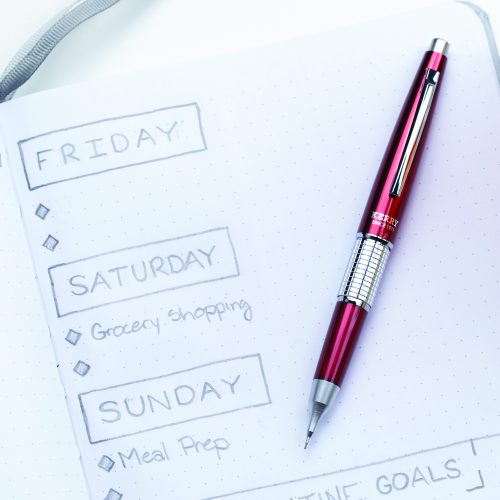 Beaucoup de personnes préfèrent des agendas électroniques et des apps de gestion du temps puisqu'ils sont faciles et rapides à utiliser. Mais il est tout facile de faire glisser vers la gauche pour supprimer les notifications. Et bien sûr, on les oublie… jusqu'à ce qu'il soit le soir avant la Saint-Valentin et vous vous rendez compte que vous avait dû commander un cadeau il y a une semaine. Or, nous savons tous très bien qu'en prendre note mentalement ne marche jamais. Après tout, pourquoi autrement nous aurait téléchargé cinq apps différents pour suivre nos dates limites et choses à faire ?
In that case, handwriting may just be the best (and maybe even the last) option. Physically writing down memos or notes has shown to be more helpful when it comes to remembering information. Typing on a keyboard allows you to take down information quickly, but doesn't necessarily help you retain that information. On the other hand, taking the time to physically write down notes or memos lets you process information more thoroughly. Handwriting healthily engages your brain. If done regularly, such as daily or weekly, it provides effective reminders for all those dates and deadlines.
Dans ce cas, écrire à la main pourrait bien être le meilleur (ou même le seul) choix. Écrire sur papier ou sur un tableau s'est révélé plus efficace pour se rappeler de l'information. Taper sur un clavier permet de transcrire vite l'information, mais il n'aide pas nécessairement à le retenir. D'autre part, prendre le temps d'écrire des notes nous aide à digérer ce que nous écrivons. De cette façon, écrire à la main stimule sainement le cerveau. Si cet exercice d'écrire est fait régulièrement, il nous fournit des rappels efficaces pour toutes ces dates-là.
Take a look at our recommendations below to help you stay on top of those to-do lists.
Régardez nos recommandations ci-dessous pour vous aider à gérer les choses à faire.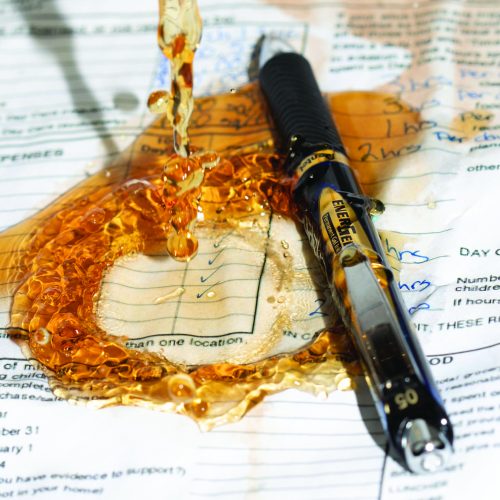 BLP75
The water-resistant Energel Permanent pen is great for note-taking within tea spilling distance.
Le stylo Energel Permanent est idéal pour la prise de notes avec son encre résistante à l'eau. Ne vous inquiétez plus des déversements du thé !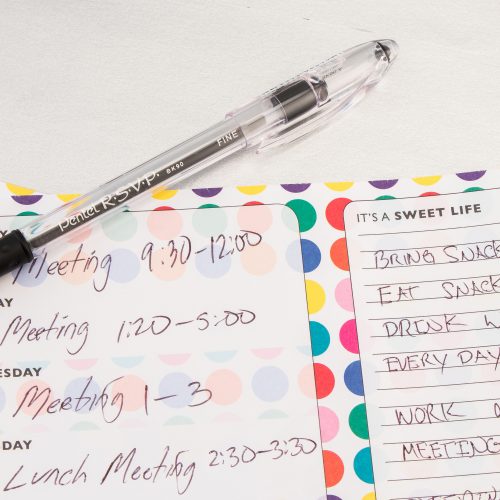 RSVP BK90/1
RSVP is an affordable ballpoint pen available in many colours. No need to worry about smudging on calendars with a coating!
Le stylo économe RSVP est disponible dans une gamme de couleurs. Dites adieu aux taches et bavures sur votre calendrier mural.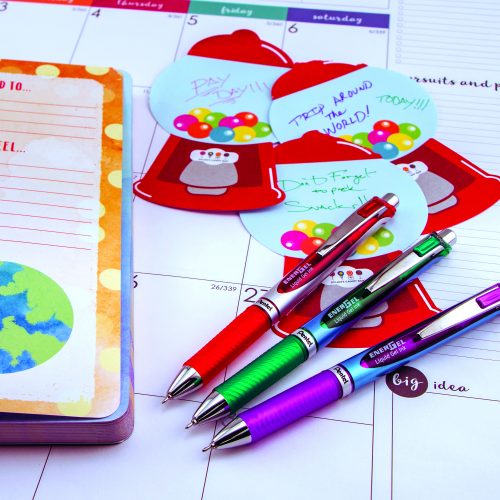 BLN75
The BLN75 needle tip pen allows you to write fine lines for detailed lists or DIY calendars.
Avec son pointe aiguille de 0,5mm, le stylo à bille roulante BLN75 est parfait pour les listes détaillées et les journaux.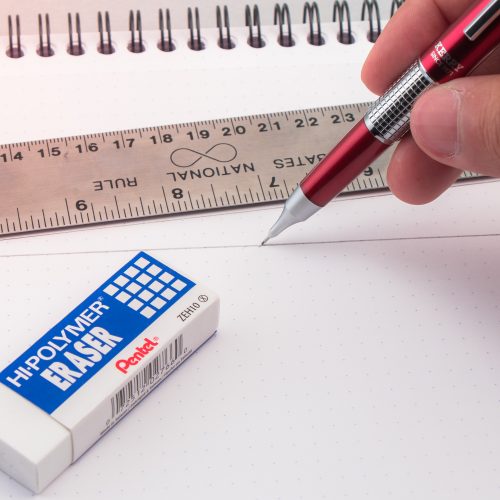 Kerry Pencil P1035-B
The sleek Kerry mechanical pencil makes for a perfect Valentine's gift for a budding journalist or frequent note-taker.
Un porte-mine élégant, le porte-mine Kerry serait un cadeau de Saint-Valentin parfait pour un(e) journaliste ou un(e) preneur/preneuse de notes.
Where to get these Pentel products:
Où acheter ces produits Pentel :
National Retailers / 
Détaillants nationaux
    
Wholesalers /
Grossistes