How to keep your 2020 New Year's resolutions / Comment respecter vos résolutions du Nouvel An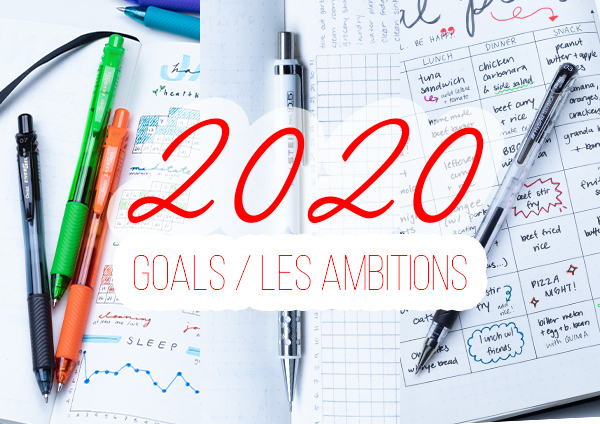 Make your New Year's resolutions happen by planning out your 2020!
Respectez vos résolutions du Nouvel An par planifier votre vie en 2020 !
Want to start exercising regularly? Drink 8 glasses of water a day? Meditate every morning? Make these into healthy habits by creating your own personalized habit tracker. Through planning, you can easily stay on top of your deadlines, to-do lists, and long-term goals.
Voulez-vous faire de l'exercice pour vous mettre en forme ? Boire 6 verres d'eau par jour ? Méditer chaque matin ? Prenez de bonnes habitudes par créer votre suivi personnalisé d'habitudes. En planifiant, vous pouvez gérer bien vos échéances professionnelles ou personnelles, vos choses à faire et même vos buts à long terme. 
Here are some of the best writing tools you can use to start your 2020 off the right way.
Voici les meilleurs instruments d'écriture à utiliser pour bien démarrer votre année 2020.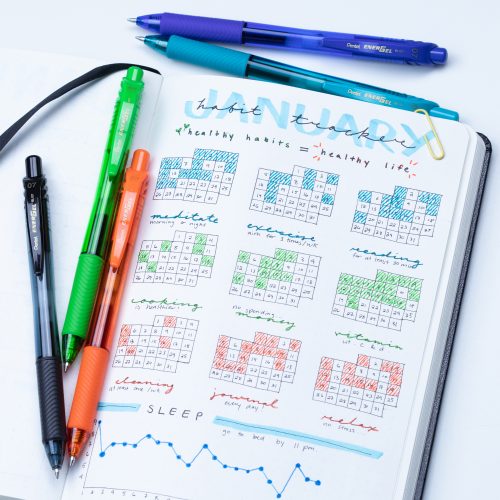 Energel-X 0.7 BL107
Colour-code your habits with the Energel X pens. Available in vibrant and lively colours like turquoise and orange, the Energel X pen is perfect for daily writing with its smooth and fast-drying gel ink. The economical BL107 Energel X pens also make it easier to collect all 12 Energel colours.
Mettez votre suivi d'habitudes à code couleur avec les stylos Energel X. Pendant qu'ils sont disponibles en couleurs vifs et amusants comme l'orange et le bleu turquoise, les Energel X offrent une écriture douce qui sèche vite. Ces stylos sont bien faits pour l'écriture quotidienne. Collectionnez toutes les 12 couleurs de cet Energel économe !

Hybrid Technica KN103
Producing precise lines and providing a smooth writing experience, the Hybrid Technica pen is ideal for the daily planner. Comes in 0.3, 0.4, 0.5, and 0.6mm—Try it in a variety of point sizes!
Fournissant une écriture précise et douce, le stylo Hybrid Technica est un bon choix pour les planificateurs(trices). Il est disponible en 0,3, 0,4, 0,5 et 0,6mm. Essayez-les tous !

Stein Mechanical Pencil /
Porte-mine Stein

P315

The Stein mechanical pencil features a 4mm fixed sleeve, perfect for using rulers or stencils.  Pre-loaded with 0.5mm break-resistant Pentel Stein lead for continuous writing and planning.

Doté d'un canon fixe de 4 mm, le porte-mine Stein est idéal lorsque l'on souhaite utiliser une règle ou des gabarits. Équipé d'une mine anti-bris 0,5mm Stein de Pentel pour une écriture et planification en continu.
Where to get these Pentel products:
Où acheter ces produits Pentel :
National Retailers / 
Détaillants nationaux

Wholesalers /
Grossistes