Energel Clena: Rediscover the charm of handwritten letters / Redécouvrez le charme des lettres écrites à la main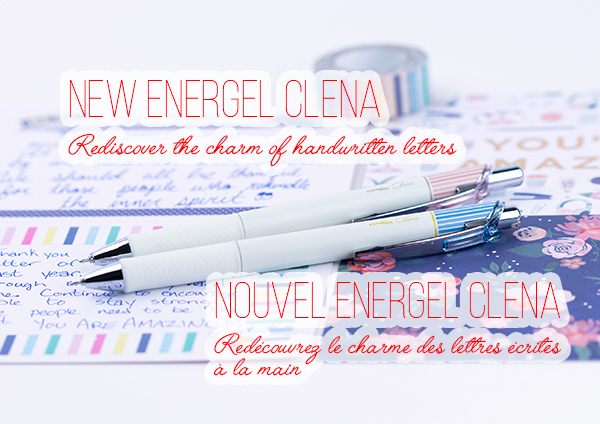 Rediscover the charm of handwritten letters with the NEW Energel Clena.
Redécouvrez le charme des lettres écrites à la main avec le NOUVEL Energel Clena.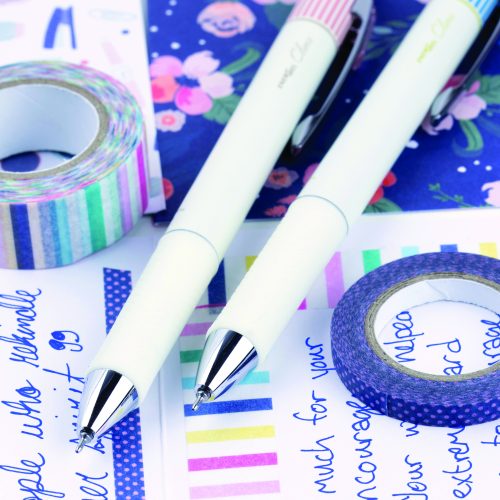 As we grow more reliant on technology, the way we keep in touch with our loved ones has undoubtedly changed. Texting and calling let us start a conversation anytime with our friends. Face time is a must during the holidays- allowing us to see and hear our families wherever we are. But no matter how convenient these options are, they may never beat the charm of handwritten letters.
Car nous comptons plus sur la technologie, la façon dont nous rester en contact avec nos proches a sans doute changé. Les textos et les appels nous permettent de bavarder avec nos amis à tout l'instant. Il nous faut FaceTime pendant les vacances, pour que nous puissions entendre et voir nos familles partout où nous sommes. Cependant, n'importe quel avantage que ces options nous donnent, ils ne pourront jamais remplacer le charme des lettres manuscrites.

Handwritten messages are a unique and heartfelt way to connect with those you care about. Whether it's your partner, a distant friend, or even just your mom, making the effort to write a letter gives you the opportunity to express yourself in a genuine way. Writing down your thoughts in your own handwriting lets your personality to shine through, compared to simply printing out a Word document in a standardized font. As some people like to say, "Actions speak louder than words". Aside from the actual messages you write, taking the extra effort to handwrite a letter and drop it off by the post office truly shows someone that you care. After all, not even a personalized e-card could beat the sincerity of a handwritten letter.
Les messages écrits à la main sont des façons uniques et sincères pour vous connecter avec vos proches. Que ce soit à votre partenaire, à un ami éloigné, ou simplement à votre mère, écrire une lettre vous permet de vous exprimer de manière authentique. Écrire vos pensées dans votre propre écriture laisse montrer votre personnalité, en comparaison avec un document Word imprimé dans une police standard et banale. Comme les gens aiment dire, « Les gestes sont plus éloquents que les paroles. » À part des messages actuels que vous écrivez, faire l'effort d'écrire avec un stylo et aller à la poste est une marque d'affection. Après tout, un e-card ne pourra pas exprimer la même sincérité qu'une lettre écrite à la main.
Energel Clena BLN75L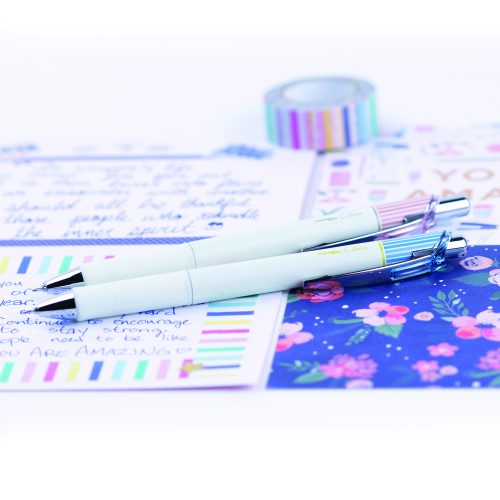 Start writing letters with the new Energel Clena. A new EnerGel barrel design, in a cute and elegant style. Great for writing letters and journaling. An attractive stationery collection addition. The rubber grip provides extended comfort and control when writing. Features a 0.5mm metal needle tip. Part of Pentel's exclusive Recycology™ line of recycled products. Over 50% of the materials used to create these products were recycled materials. Reduce your environmental impact by using LRN5 refills in this pen!
Commencez à écrire des lettres avec le nouvel Energel Clena. C'est un nouveau design pour les stylos Energel, mais il reste toujours mignon et élégant. Idéal pour l'envoi de lettres et votre journal. Il est parfait pour votre collection de stylo. La pointe aiguille est de 0,5mm. C'est un produit Recycologie ! Ce stylo est fait de plus de 50 % de matières recyclées. Réduisez vos déchets en rechargeant vos stylos avec LRN5.
Where to get these Pentel products:
Où acheter ces produits Pentel :
National Retailers / 
Détaillants nationaux
Wholesalers /
Grossistes