Pentel Imprint / Imprimé Pentel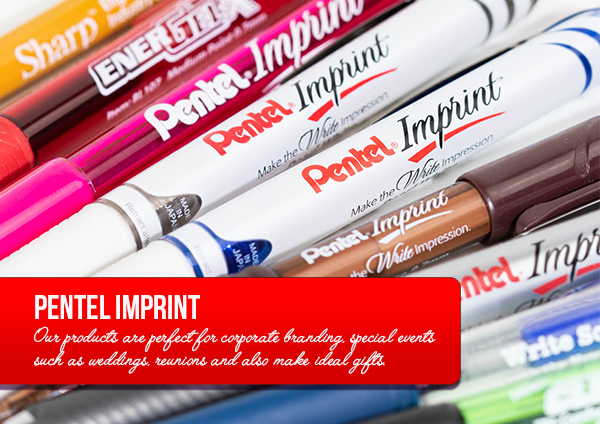 Pentel has been making high-quality writing instruments for over 70 years. Our products lead the way in innovation and reliability. We have a wide range of pens and pencils that can be imprinted to suit your writing needs and budget.
Pentel produit des instruments d'écriture d'une qualité supérieure depuis plus de 70 ans. Nos produits se distinguent sur le plan de l'innovation et de la fiabilité. Nous offrons une vaste gamme de stylos et de porte-mines qui sait répondre à vos besoins et à votre budget.
Our products are perfect for corporate branding, special events such as weddings, reunions and also make ideal gifts.
Nos produits sont parfaits pour promouvoir votre image de marque, pour des événements spéciaux comme des mariages ou des réunions, ou encore pour offrir en cadeau.
Placing your brand on a Pentel product will help you validate your companies' commitment to quality, performance and reliability.
Apposer votre marque sur un produit Pentel aide à confirmer l'engagement de votre entreprise vers la qualité, le rendement et la fiabilité.